Are you a fan of Eiffel chairs, thin-legged tables, and sputnik-style chandeliers? Then you might want to consider implementing a midcentury modern design in your home!
Maybe you've just moved into your first apartment and want to decorate, or maybe you've decided your home needs an upgrade in style. Either way, you've chosen Midcentury, and want to stay authentic! But you'll need to be careful: This type of style can get really expensive really fast. See below for our handy guide on all things Midcentury modern, and to get started on your own design (for cheap!)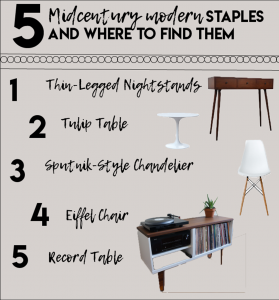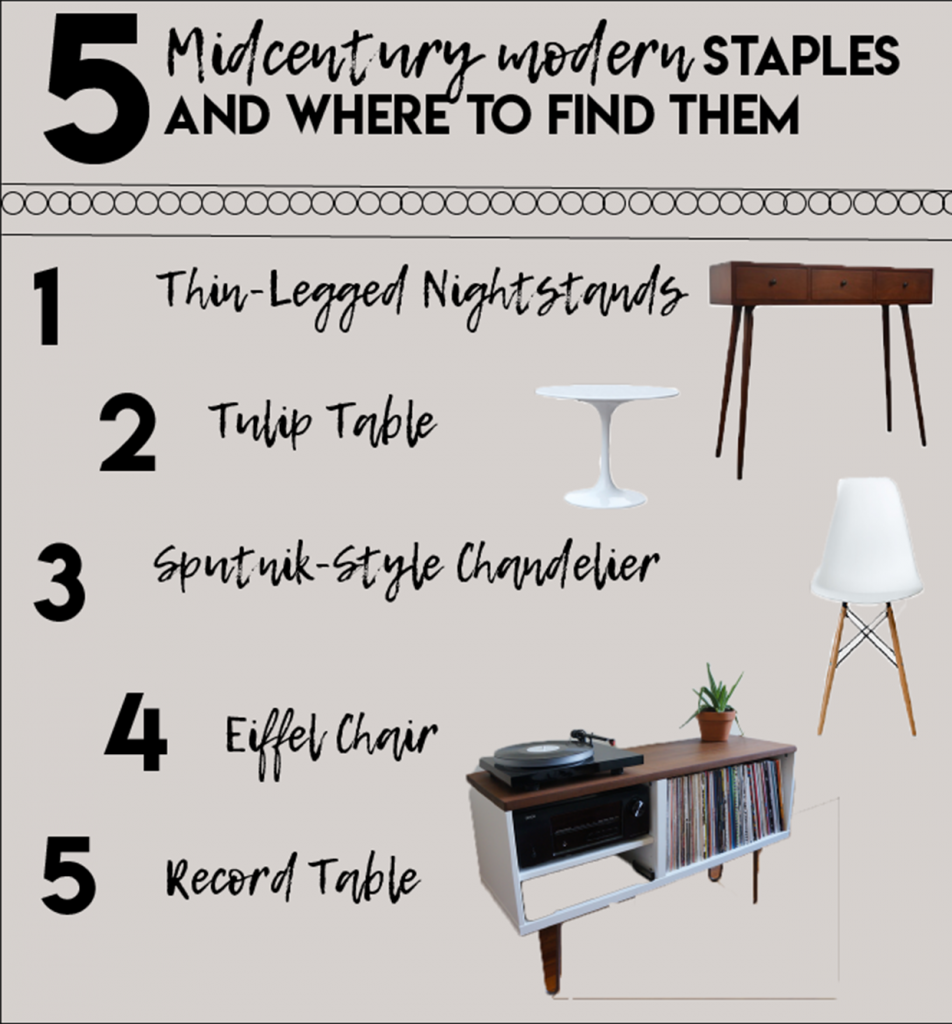 1. Thin-legged couches and tables
A staple of mid century modern design are the thin legs you see on couches, nightstands, and tables. While these tables will easily cost you hundreds of dollars on their own, did you know that you can buy the legs on their own and attach them to your own furniture? You can find thin legs starting at just $20! Simply repaint an old nightstand or skinny table in a dark wood finish, and attach the legs yourself!
2. Tulip Table
Tulip tables are known for their wide tabletop, skinny stem, and wide base. All in all, they look a bit like a tulip! You'll usually find these tables in white, cream, or a grey color. Depending on the retailer, these tables can cost anywhere from $200-$1,000 online! Save yourself a little money and invest in Ikea's brand of the tulip table, the DOCKSTA table for $179. Yes, it's not as cheap as other IKEA furniture, but it certainly is cheaper than if you were to buy vintage!
3. Sputnik-style Chandelier
This piece may look a bit out of this world, but that's because it's supposed to! Inspired by the iconic Sputnik satellite launch, these chandeliers give off a space-vibe with their sun-like centers, and their star-shaped lights. Save yourself the $150, and make your own chandelier DIY!
4. Eiffel Chair
This appropriately named chair has legs that do look a bit like the Eiffel tower with their steel beams that crisscross at the bars. You shouldn't have to pay the equivalent of a price to Paris to have one in your house, however. We suggest looking either at Wayfair or Amazon for discounted prices on these beauties!
5. Record Table
Ah, records. Even though streaming is rendering CDs extinct, records prove to have a cult following that won't die out. A record player, some vintage records of your favorite bands, and a record table will go perfectly in your living room or bedroom! Hands down, the cheapest way to go with this one is to attend garage sales, buy a fixer-upper, and then paint it a bright color yourself! If you'd rather buy online, Target has some cheap options for midcentury modern tables that won't break the bank!
For more posts like this, visit us at marketapts, or check out our apartment blog!