The average rent in Salt Lake City is progressively increasing, and certain areas of the city are becoming relatively more popular. It is evident that there are many multifamily developments undergo, and many more projected for the future. It is common to lump all of the apartments into the same category because they're all in Salt Lake City, but even within this city, each area varies in many ways.
If you're looking for an apartment in Salt Lake City, it's important to consider the price range of each smaller radius. Salt Lake City is divided up into different "neighborhoods". Each neighborhood features unique characteristics and different apartment options. You may be looking for a specific Salt Lake City neighborhood, or perhaps a specific rent price. It's important to consider the different options available because even living one street over can make a huge difference.
Here is a breakdown of the neighborhoods in Salt Lake City.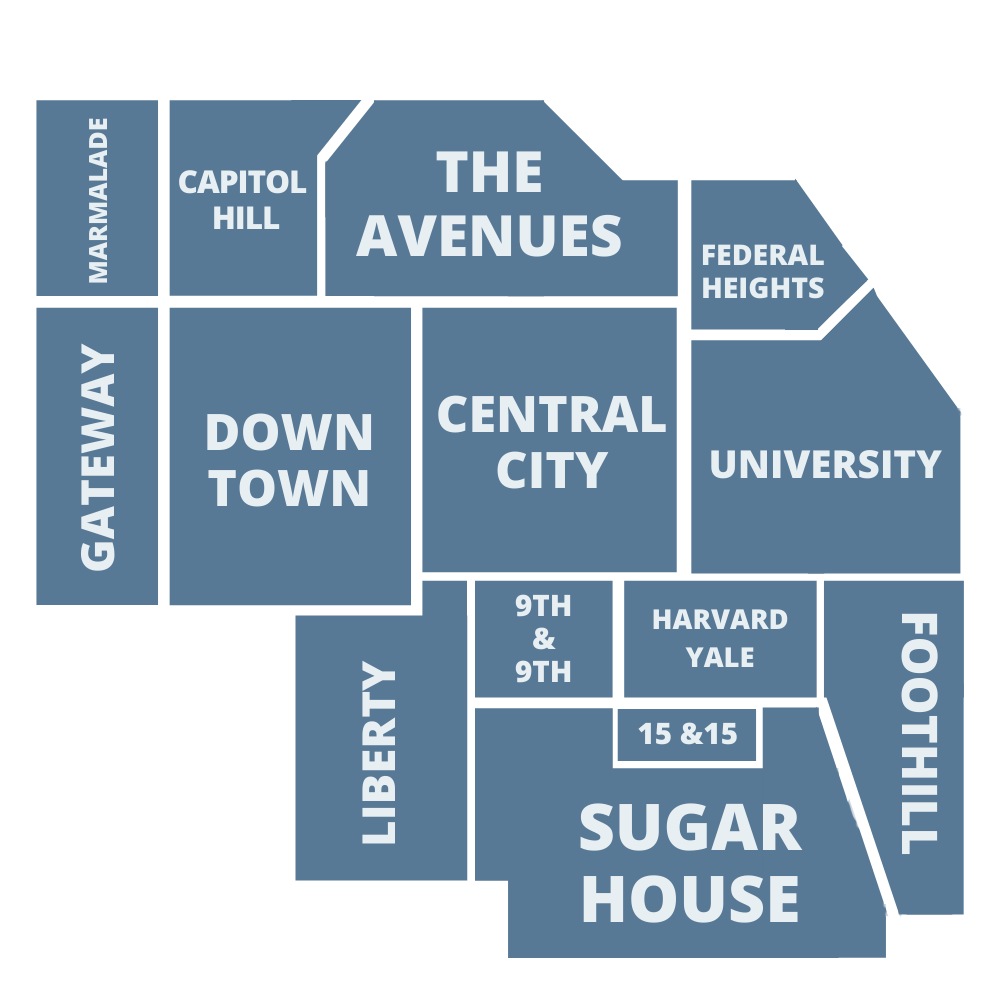 Overall Average Rent in Salt Lake City
These numbers were calculated based on apartments that were between 800-900 square feet.
1 Bedroom – $1,098
2 Bedroom – $1,390

Average Rent in Salt Lake City Neighborhoods:
This is the average rent calculated for each neighborhood based on a monthly rent basis of an 800-900 square feet apartment.
Sugarhouse: $1,418
Sugarhouse is one of Salt Lake City's oldest neighborhoods and it is complete with many top restaurants, and dining options. It is the most expensive neighborhood in Salt Lake, due to its historical richness, and unique old charm vibe. This area is located around 1100 East, and 2100 South.
People's Freeway: $1,385
The People's Freeway area of Salt Lake City is located around Smith's Ballpark near 77 West and 1300 South. In this area, you will find quick access to explore both North, and South Salt Lake, along with many local attractions. Here you will experience old diners, and dive bars as well as ballpark games.
Downtown: $1,146
Downtown Salt Lake City is the major part of the city, that consists of an arrangement of neighborhoods, and lifestyles. This is the area where you will find major shopping and dining centers such as Trolley Square. This neighborhood consists of mainly industrial buildings, with large multifamily properties often building off of those. It is a unique blend of modern developments, and historical buildings. Here, you will find that rent is a little cheaper than a few other areas.
The Avenue's: $1,044
The avenues is a neighborhood in Salt Lake City that is known for having roads that are laid out to follow a specific letter and number grid. This was Salt Lake City's first official neighborhood. Currently, however, this area attracts a younger crowd. The avenues are known for being artsy, and more progressive. The rent here is moderate compared to other neighborhoods.
Federal Heights: $1,364
Federal Heights is considered to be one of the most residential areas of Salt Lake City. This area is located directly next to the mountains which provides you with a lot of beautiful landscapes. The rent typically ranges on the more expensive side of Salt Lake City, partially due to the fact that many houses have been in the neighborhood since the early 1900s, making them highly desirable.
Capitol Hill: $1,034
The Capitol Hill neighborhood is home to an area that is rich with history, and sentiment. Located right next to Salt Lake City's capitol building, each house is high above the hustle of downtown. Living here is a great way to combine downtown Salt Lake City living with historical suburbia. Rent here is also moderate, but quickly rising as the houses combine vintage charm and antique flair.
Central City: $1,411
Central City is home to a modern hipster vibe. It has been designed to be fully bike-friendly. It is between downtown and Sugarhouse, and it is rapidly growing. In this area, you will find plenty of dining, and shopping options, and endless opportunities for entertainment. The rent in this area tends to run a tad higher, coming in a close second on the scale behind the rental price in Sugarhouse. This could be due to the large diversity of the area, or perhaps all of the new developments.
Foothill/University: $981
The Foothill/University neighborhood is located in very close proximity to the University of Utah. Due to the large portion of this area that is student housing, the rental price is relatively cheaper than the rest of Salt Lake City. However, it is also important to keep in mind that a lot of these options may be specifically directed towards students and those who are looking for roommates. More recently, there has been a portion of this area that has been developed as non-student housing.
Marmalade: $1,254
Directly north of downtown, you will find the Marmalade District which is near the Salt Lake City Capitol Building. The neighborhood features unique landscaping with multiple vintage buildings. It is a beautiful area of architecture that highlights an old school victorian style. Here you will truly find yourself at the hub of work, and play as it is conveniently located near major freeways, and public commutes.

Rose Park: $890
Rose Park is a northwest breakoff of Salt Lake City and is located just moments away from downtown. This area significantly carries the lowest rent price in all of Salt Lake City. In this area, you will find quick access to major freeways, and easy commutes to all of Salt Lake. It is the most diverse area of Salt Lake, and great for anyone looking for a lower rent price.
So the most expensive neighborhood in Salt Lake City is Sugarhouse, followed closely by Central City. The least expensive Salt Lake City neighborhood is Rose Park, followed by the Foothill/University area.
Many Salt Lake City apartments will provide you with a completely different experience depending on what type of neighborhood you're looking for. There is certainly a place for everyone to feel at home, and have access to endless opportunities for adventure, and exploration. Regardless of which neighborhood you choose, you will be surrounded by beautiful mountain scenery, and get the rich experience of all four seasons.
If you're not wanting to live in Salt Lake City directly, you may consider moving somewhere local in the valley. Apartments in West Valley, Murray, and Midvale are sometimes less expensive than directly in Utah's capital city.
Average Rent Throughout the Salt Lake Valley
In searching for your next apartment it is important to keep in mind that rent prices can fluctuate, and change pretty rapidly. You will want to regularly stay up to date on different areas, and notice how the overall market trend is changing. Finding your next apartment can be stressful, so having this detailed information is extremely helpful, and can help you make timely decisions.
Consider these apartment communities for your new home.
For more apartment living tips, check out this apartment living blog that can help you do everything from saving money to decorating your bathroom on a budget!