As cold weather approaches, there's nothing better than a hot coffee on a crisp morning. Even if you're one of those people who need iced drinks year-round, getting your cup of joe is a daily delight. And what better way to do that than by supporting the best local coffee shops in your area? Salt Lake City is surprisingly full of craft coffee roasters and unique coffee houses. Deepen your love of coffee by diving into the local coffee scene and trying some of our favorites. Here's our list of the top 7 coffee shops in the little big city of Salt Lake.
1. Publik Coffee Roasters
Publik is outstanding as one of Salt Lake City's leading coffee roasters. It's a small-batch specialty coffee roaster that values "quality over quantity" and "planet over profit." Now with four locations, they are always a good option if you're looking for absolutely excellent coffee any day of the week.
Their flagship coffee house is just off of West Temple and houses their roastery. It's an open, industrial-style community workspace. You can spend hours there getting work done or chatting with friends while sipping your favorite drink. Their Avenues location is in a walkable, quaint Salt Lake City neighborhood. It has a cozy, friendly vibe and the baristas take pride in remembering your name and your usual. With seating indoors and out and windows lining the facade, getting your coffee to stay is a joy.
We always recommend trying their seasonal offerings or getting a latte or americano. Their drip coffee is also excellent and if you're looking for some beans to take home, Miles Goodyear's Cabin is a sure favorite. Catching a bite to eat as well? Try their avocado toast, or head to Publik Kitchen for a hearty breakfast sandwich topped with local onion beer jam and served with country potatoes.
2. The Rose Establishment
Our absolute favorite place for brunch, The Rose Establishment is the perfect place to take a date or get coffee with friends. If you're in a hurry, you can still take your coffee to go, but we recommend getting a table for their excellent service and hip, relaxed atmosphere.
Their menu has many seasonal offerings, both for gourmet food and delicious drinks. For food, we'd recommend the avocado or mushroom tartine, and for drinks, a latte or dirty chai, or, if it's available, their seasonal autumn harvest latte with oat milk. Craving tea? Fall in love with their signature Black Rose tea latte or any of the other scrumptious teas on their menu. The Rose won't disappoint.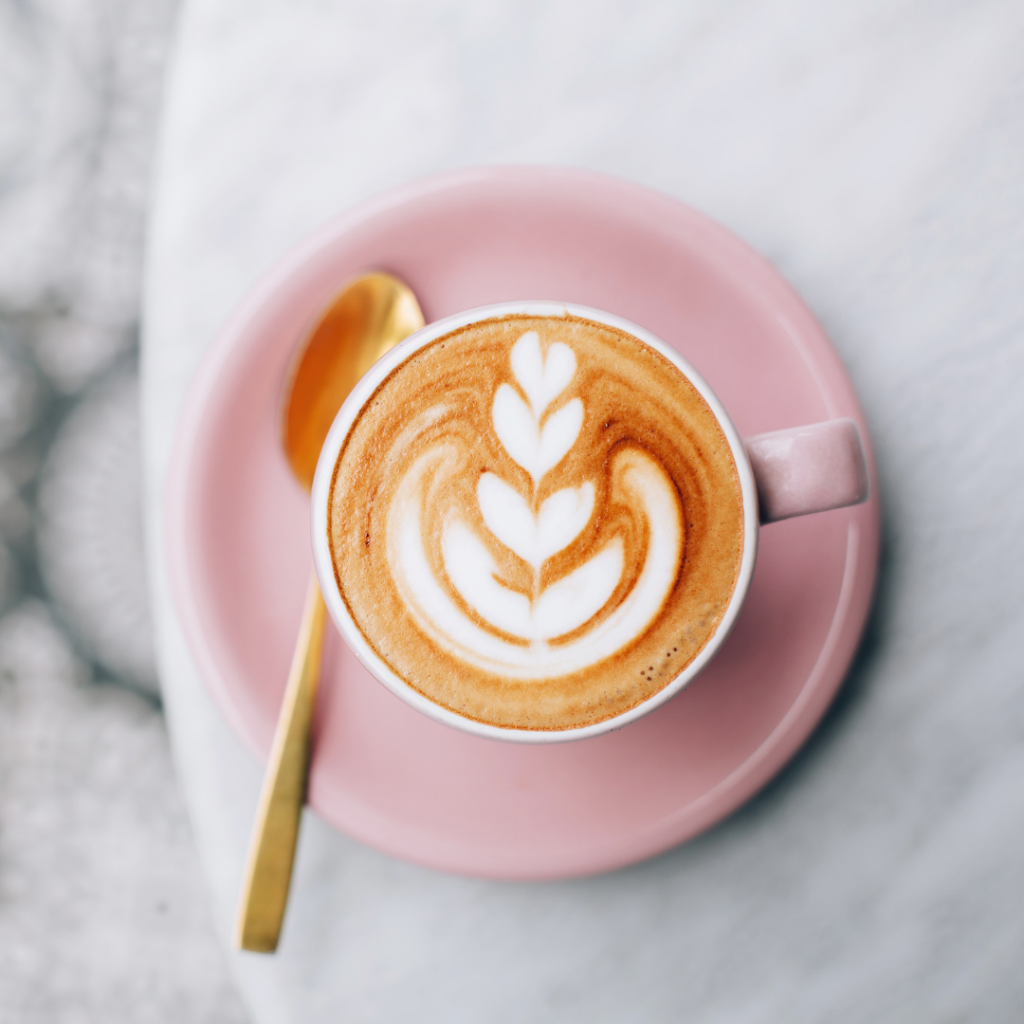 3. Three Pines
Located on historic Main Street, Three Pines is the cutest little space to get exacting, high-quality coffee that will always leave you impressed. Their coffee menu is streamlined to offer you the absolute best. We recommend getting their lighter roast coffee as a traditional 6oz cappuccino or trying their chai either on its own or dirty. They make their only two syrup flavors in-house (vanilla and dark chocolate) and offer local whole milk or house-made almond milk, depending on your dairy preference. On certain days, you'll find hand pies from local favorite Pie Party, so definitely catch them while they've got them hot.
4. Blue Copper
Known for roasting some of the best beans in the state, Blue Copper can't be missed. Their two locations, Blue Copper Coffee Room and Blue Copper 2000, each have their own aesthetic and energy, but the attention to detail and high-quality coffee are the same. Blue Copper has a rotating selection of coffee beans, paying careful attention to sourcing and to the roasting process.
We recommend ordering your favorite latte because the espresso is great, no matter what you choose to do with it, or just enjoying whatever delight they have brewing that day. Lucky for locals and for those living far away, Blue Copper can ship their beans anywhere in the U.S., so you won't have to be without your favorite no matter where you are.
5. Cafe Juniper
You can't get more locally-focused than Cafe Juniper. Under great ownership, they support local whenever they can by supplying almost every part of their shop with products from other amazing local small businesses. Their local partners include Blue Copper Coffee, Mims (for bread), Amour Spreads (for jam), and The Chocolate Conspiracy. They make syrups in-house and have amazing toasts to choose from. They sponsor local artists by posting their work for sale on their walls and have a piano right in the shop. Get in with the heart of the community when you get your coffee from Cafe Juniper.
6. Sugarhouse Coffee
Sugar House Coffee may be the most inclusive, welcoming coffee house in the state. To borrow a phrase from their website, Sugar House Coffee is a place "where everyone is safe to share their story." Housed next to Best Friends Animal Society, they are right in the heart of one of the liveliest neighborhoods in Salt Lake City, Sugar House. With an atmosphere of community and fun, you can make friends or hang out with the old all day and into the night at Sugar House Coffee.
They have an extensive menu of food and drinks, so no matter your favorites, you're sure to find several to choose from. They use locally roasted Rimini Coffee, so drip and espresso drinks are always excellent. Serving matcha, chai, and a variety of other teas and smoothies, you can find something you'll enjoy no matter the weather and no matter your mood. If you're hungry, we recommend trying their Brekkie Sandwich or their espresso brownie. Also on display is the art of several local artists and Sugar House Coffee is one of the venues for the Sugar House Art Walk. You can get your fill of excellent brewed beverages AND art at Sugar House Coffee.
7. The People's Coffee
Right at the heart of downtown at second and second, you'll find a modern, energetic, and fun coffee shop with a delicious menu and open, friendly energy. At The People's Coffee, they use locally roasted beans from Fair-Trade Certified Caffe Ibis in Logan, Utah. Here they highlight local artists and focus on building community. Indulge in your favorite espresso drink (we'd recommend an oat milk latte with honey, honey) and grab a quick bite like their avocado toast, lox bagel, or their Caprese panini. Within walking distance of all the fun and entertainment in downtown Salt Lake City, you can spend the day discovering the city and getting your coffee fix, too.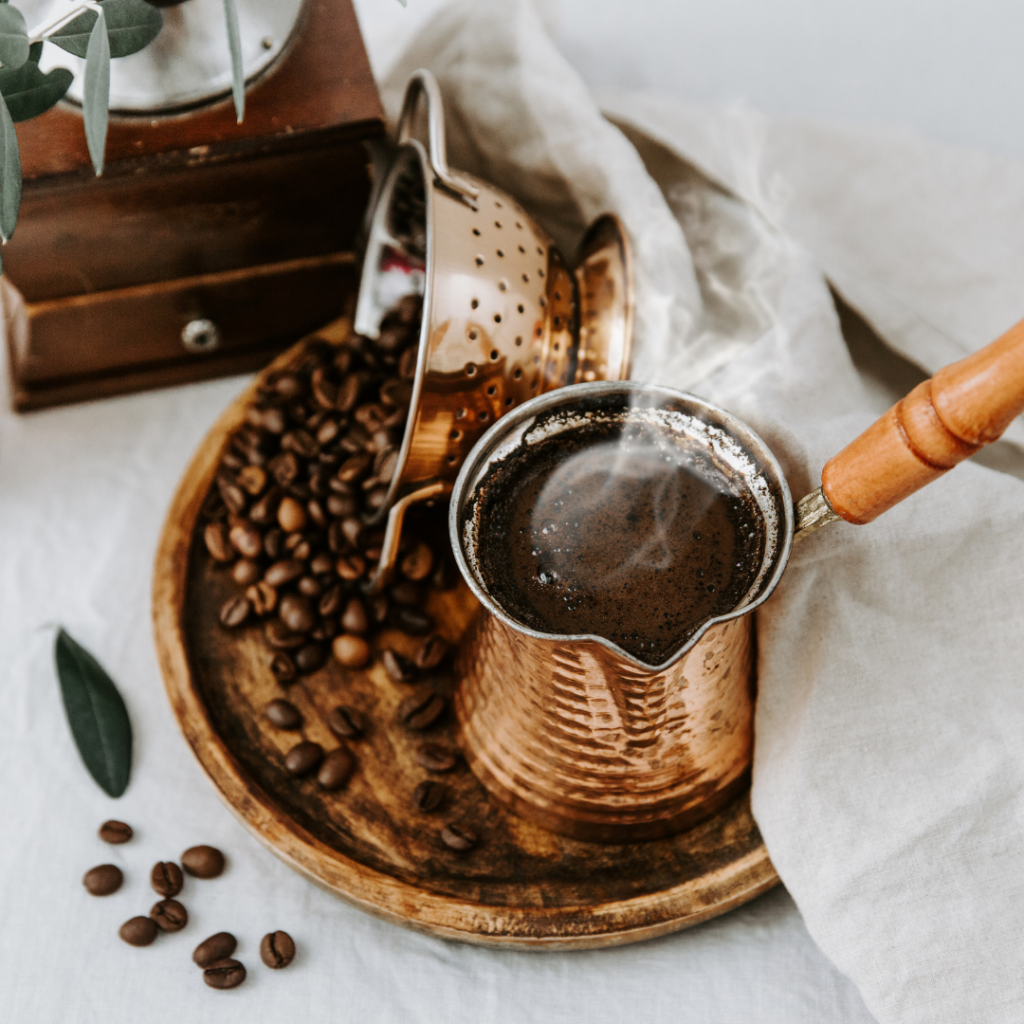 Honorable mentions for a unique coffee experience:
Craving Turkish coffee? Check out new favorite Kahve Cafe for a cozy coffee drinking experience and a chance to try borek. As their website says (quoting a Turkish proverb): A single cup of coffee is remembered for forty years.
For traditional French pastries and true Italian-style coffee, visit Les Madeleines. Famous for their kouign amann pastry from the Brittany region of France, it's one of the best stops for an authentic cappuccino. We'd also recommend their pain au chocolat, their breakfast sandwich on croissant loaf, and any drink with their house-made vanilla. For an extra treat, grab a macaron for later.
Featuring a 100% plantbased menu, Passion Flour Patisserie is sure to satisfy. They carry vegan French pastries and excellent coffee with a variety of milk alternatives. Find your new favorite in the 4oz flavor bomb called Friend of the Fowl or their excellent London Fog infused with lavender.
No matter your coffee preferences, Salt Lake City won't disappoint. There is a vibrant, growing, community-focused, craft coffee scene that you won't want to miss. We hope to see you there as we discover more of the best coffee right here close to home.